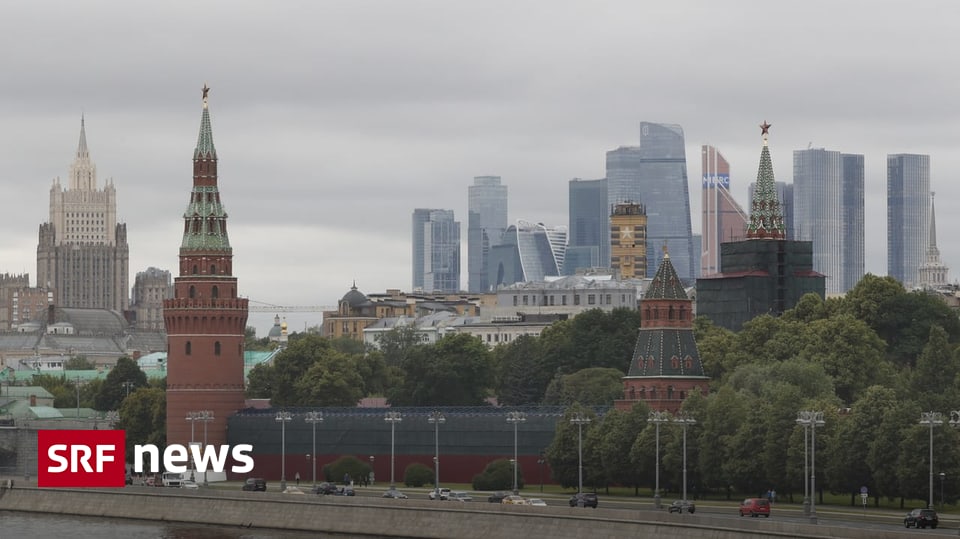 A week earlier, heavily armed Wagner troops had marched toward Moscow. What is evident from this phenomenon? Gwendoline Sasse, director of the Center for East European and International Studies in Berlin, characterizes the events.
Gwendolyn Sasse
Political scientist

Open the Person box
Close the person box


Gwendoline Sasse is Academic Director of the Center for East European and International Studies in Berlin and Einstein Professor for Comparative Research on Democracy and Bureaucracy at Humboldt University in Berlin.
SRF News: When you think back to last weekend, what's an open question for you?
Gwendolyn Sasse: The key question is to what extent the elites of the Russian military and security apparatus will align with Wagner's troops and whether this movement toward Moscow could have changed more. This, of course, was the key question for Wagner boss Prigosh. When he realized that there was not enough support, he decided to stop the advance. But the fact that it has come this far shows that at least the top brass are not opposed.
But did the beliefs work? Did the security and military apparatus stand up to Putin?
In large areas. But the fact that he was able to seize military command in Rostov meant that the people in Rostov knew this was happening and did not oppose it. And then going all the way to Moscow is what many in the military and security apparatus tend to see. Many do not position themselves clearly.
The first cracks in the system became public. But the overall structure still holds.
No one can assume that all faiths last long. The first cracks in the system became public. But the overall structure still holds. We can assume that Putin will make every effort to avoid a repeat of this situation of private forces and violent actors turning against the system.
Is Putin now facing more repression?

open box
Box zuklappen


"I expect more repression," says Chas. "I also expect the mandatory implementation of decisions that have already been made, for example today is the deadline for the official integration of private forces into the Russian army."
"Some have done it, and it is not at present clear where they are with Wagner's troops, and who will obey the command. But it will be pushed so that there will no longer be private forces of this kind outside the control of the State. Whether it will be entirely successful remains to be seen. In our own apparatus, and in the whole country, any opposition I expect more and more focused repression.
Perhaps Putin can act on his own people while still being relatively outnumbered?
We don't know how many there are. We don't know what happened, for example, the Russian soldiers in front even noticed what happened. We cannot estimate the level of support for Putin within the Russian military.
However, we have seen pictures showing support for Prigozhin and his troops, hailed as warriors. Rather, it means that Putin cannot bet on the support of everyone involved in the war, even in the first line. But beyond that, we don't see any real liberal opposition left in the country at the moment. In society, too, we see a desire for stability.
What we saw last weekend was volatility. That's a risk for an authoritarian ruler like Putin.
What we saw last weekend was volatility. That's a risk for an authoritarian ruler like Putin. It is perceived as dangerous by society, even in a totalitarian society.
Neither elites nor society see any clear political alternative to Putin at the moment, for which one would actually switch allegiance. In my opinion, some kind of change has to start at the elite level as well. The society itself has been formed for so long that there is no momentum. But this sense of indecision alone leaves a split and a shaky faith in the current leadership.
Could that be a problem in an authoritarian system?
In any case. A dictatorial ruler is to be feared. Because everything depends on consistency. Putin needs to present himself as the man in control of events.
How should the West deal with the situation?

open box
Box zuklappen


"You have to prepare," Sasse says. "However, the question is not clear how. You have to think about different scenarios. But we saw last weekend that the West and various actors in the West were actually becoming spectators. At this point, the internal power struggle cannot be interfered with from outside. But the focus of the West continues to be on supporting Ukraine, Because Putin's strength or weakness and the course of the war will be so decisive to protect his system, the West can continue to do a lot and continue to focus. Keep a close eye on what's happening in Russia. And keep different scenarios in mind and prepare for them as much as you can."
"Because while authoritarian systems seem very stable for a long time, suddenly something can happen, and of course I think it's speculation, but I don't think we're at that point yet. But it could come, and then it could happen very quickly, and then it could be a violent transition. And Putin-like One may come to power. There may be another cycle of violence in Russia. I mean we have to think about as many different scenarios as possible. But at this point you cannot influence them from outside, in my opinion.
This conversation was moderated by Simon Halliger.
"Wannabe pop culture fanatic. Zombie advocate. Entrepreneur. Internet evangelist. Alcohol fanatic. Typical travel buff."