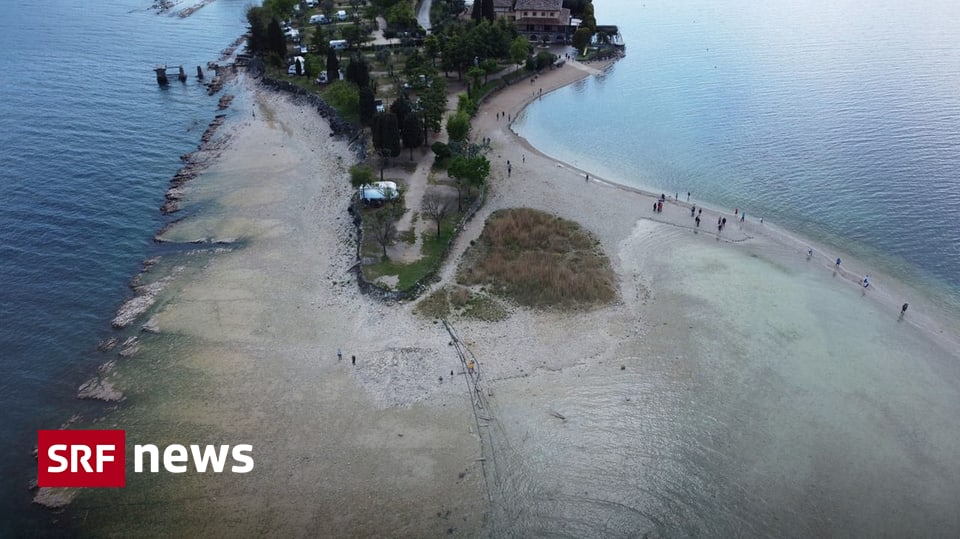 Content
The level of Italy's largest lake is at an all-time low. While tourism officials caution against over-indulgence, farmers worry about their harvest.
Normally the Isola di San Piaggio can only be reached by boat. Now the shallow waterway has become a landmark for Lago de Garda's record low volume. Hundreds of visitors wander through the lake from the mainland to the small island.
Caution against over-caution
Hoteliers' association president Ivan de Beni says guests are nervous about the pictures: "Some customers have asked if it's true that there's no water in the hotels. It was not reported properly. As there is no water in the lake, people said that there is no water in the pool or the hotel.
The tourism association wants to reassure guests and warns against over-caution. It's a lot: with 50,000 beds, according to its own reports, the region generates almost 1 billion euros a year. The guests will come anyway, but Ivan de Peni fears damage to his image: "In the last five months there has been a wave of articles, photos and stories on social media, all of which have increased, and people thought that the lake would run out of water. This is wrong."
Water Reservoir for Agriculture
The dam is located a few kilometers down the lake near Salyons. Here it is decided how much water is drawn from the lake and through which irrigation channels it flows. All agriculture in the Minchio river basin, which originates from Lake Garda, depends on it, explains Filipberto Speziali, president of the Regional Irrigation Federation: "Mantova's agriculture depends on Lake Garda to thrive. And this for decades. Water is essential for local farmers. This year, it is a matter of concern as there are ongoing problems with drinking water supply.
The lake saved farmers' harvests last year due to less rainfall. If such a drought were to happen again, it would be even more difficult for farmers because the lake was almost at its lowest point, Speziali says. Therefore, everyone has to get 30 percent less water than in previous years. This is the only way to ensure that the scarce lake water can be used for irrigation till mid-July.
Hotel tycoon: "The lake can never be emptied"
Farmers and tourists expect the lake level to rise once it rains. It is currently half a meter below the long-term average. But the president of the Hotel Owners Association does not believe that there will be a clash between agriculture and tourism.
"Emptying the entire Lake Garda for agricultural irrigation will never happen. It is unimaginable. But we need to find a balance so that both agriculture and tourism have a future." Despite all the assurances: Due to the low water level, tourism experts recommend being careful while jumping into the lake.
"Wannabe pop culture fanatic. Zombie advocate. Entrepreneur. Internet evangelist. Alcohol fanatic. Typical travel buff."