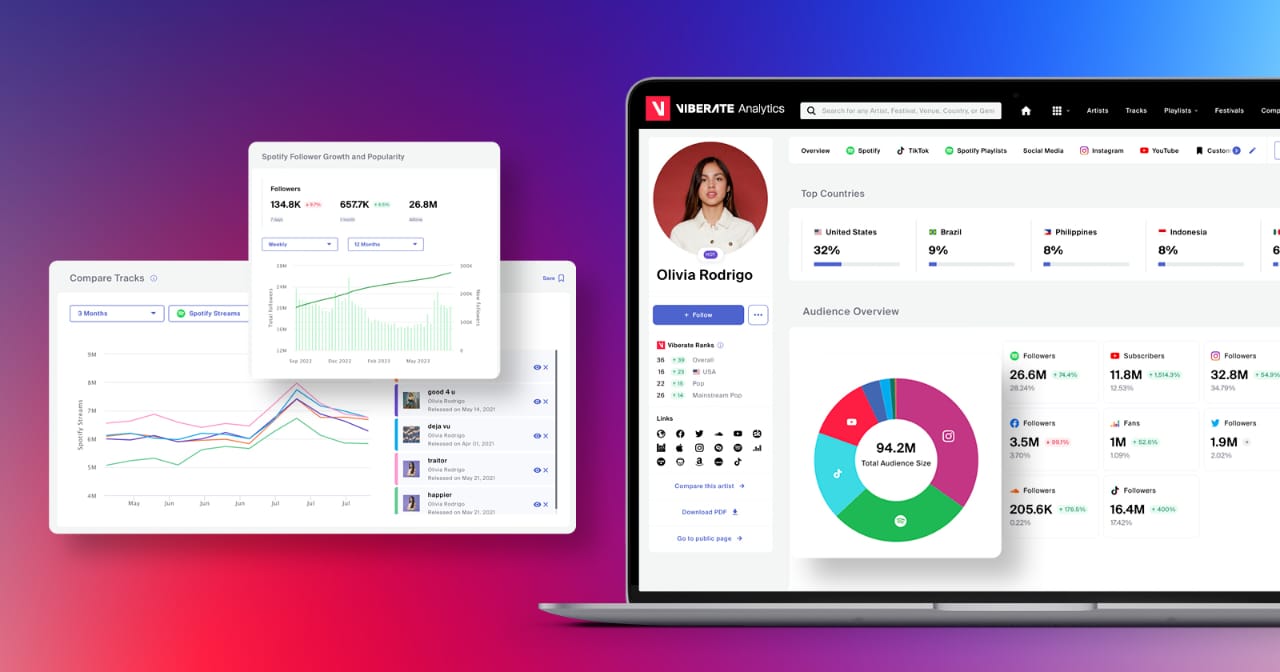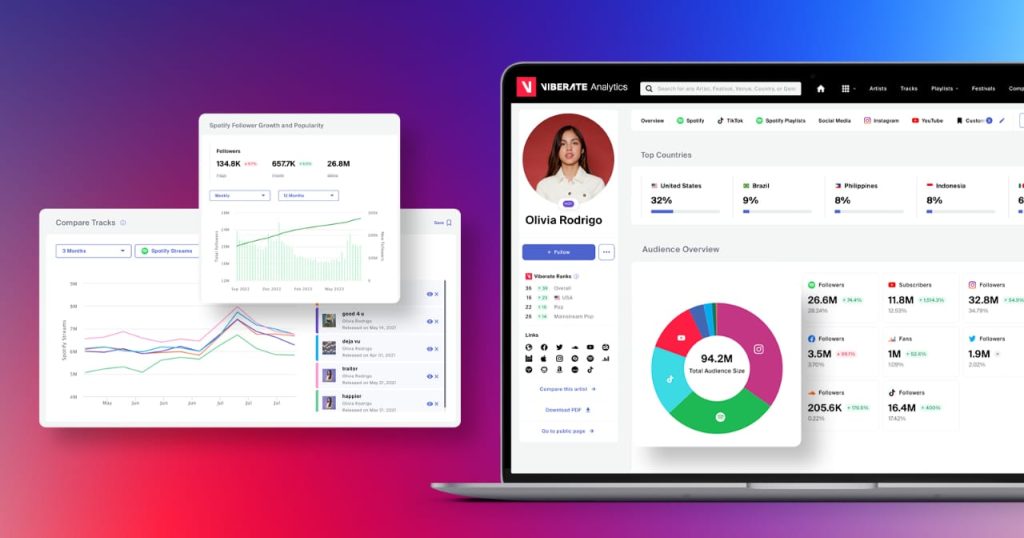 Music data pioneer, Viberate, unveils its renewed commitment: "Democratizing the music sector by rendering top-notch data accessible to every industry professional." Acknowledging the prohibitive costs of data services that marginalized indie artists and labels, Viberate introduces an unprecedented offer — premium music analytics at a market-leading price of $9.90 per month, down from $129.
The company's music insights meticulously observes the activities of over 1 million artists, decoding their performances across streaming platforms, social media, and other channels into valuable insights that drive informed business decisions. Notably, Viberate delivers channel-specific analytics for platforms like Spotify and TikTok, presents data-driven charts, and furnishes indispensable tools for talent scouting for all available artists.
How does it all come together? As explained by Viberate, "We meticulously map and scrutinize the extensive music industry ecosystem encompassing artists, tracks, festivals, playlists, and labels. Transforming streaming and social data into practical insights, our platform becomes an invaluable asset for talent discovery, roster tracking, campaign planning, and efficient business report creation."
Among the standout features offered by Viberate is Spotify Analytics. This component diligently assesses the streaming performance of artists on Spotify, encompassing metrics such as monthly listeners, followers, streams, and playlist inclusion. Users gain access to an artist's Spotify trajectory and can delve into daily data, with the added convenience of having analyses of all songs by an artist consolidated in a singular section. Filters for streams and release dates are available, and users can explore a breakdown of monthly listeners segmented by country and city.
Delving deeper, Viberate's Playlist Analyzer offers a profound insight into an artist's performance on Spotify playlists. It meticulously aggregates data on playlist placements, spotlighting the top-performing playlists and songs. With the Playlist Analyzer, users can monitor playlist reach and the tally of active playlists over specified periods, thereby identifying the impact of particular song or album launches.
Moreover, the Playlist Analyzer serves as a lens into a vast universe of over 12 million playlists, assisting users in identifying those that are most aligned with an artist's genre and career phase. The Playlist Analyzer flaunts robust filtering capabilities, allowing users to sort playlists by genre, type (indie curators, editorial, algorithmic, and so on), song popularity, and release date — invaluable for those keen on featuring newly released tracks. Users can also sort playlists based on popularity metrics like follower count, monthly follower increment, or song quantity. To illustrate, there are precisely 372 Pop playlists curated by indies, each boasting a minimum of 10,000 followers and featuring at least 30% tracks released in the preceding three months.
Furthermore, Viberate enables users to ascertain the Spotify ranking of any artist, with the flexibility of applying filters based on country, genre, and performance. In addition, users can explore rankings that are both overall and channel-specific. Viberate underscores that its Chart feature is revolutionary for talent scouting, empowering A&R professionals to identify and evaluate more talent in less time efficiently. The platform supports the saving of different filter configurations, allowing users to effortlessly revisit and access specific charts in future, ensuring that sought-after information is perpetually within reach.
For those vested in the realm of Music stats, the suite of tools offered by Viberate is undoubtedly worthy of consideration and exploration. The professional suite, now available at the competitive price of $9.90 per month, promises to be an indispensable asset for industry professionals ranging from indie artists and labels to seasoned professionals, providing an unparalleled depth and breadth of data and insights to navigate the dynamic and complex landscape of the music industry effectively. With Viberate's innovative analytics solutions, the power of data is now accessible to all, driving informed decision-making and strategy formulation in the ever-evolving world of music.
"Amateur introvert. Reader. Coffee aficionado. Professional music maven. Bacon practitioner. Freelance travel nerd. Proud internet scholar."