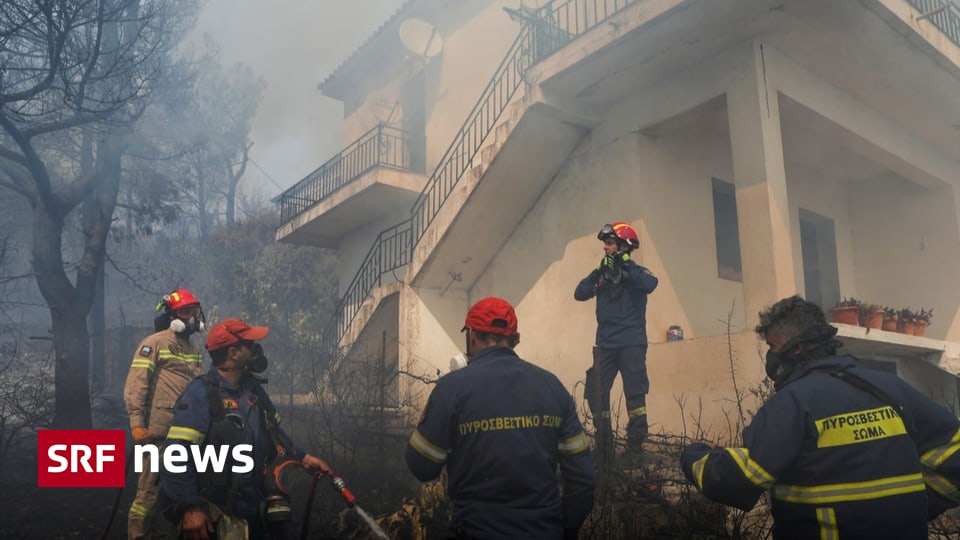 contents
The heat has Europe firmly in its grip. In many places, record temperatures lead to massive fires. Great Britain is not immune to bushfires either.
Spain: The spread of wildfires in Tenerife is causing concern. More than 2,150 hectares of blazes have burned in the Canary Islands, Regional President Angel Victor Torres said Sunday night. 585 residents of La Guancha and four other communities in the north of the island were brought to safety. Dozens of foreign hiking tourists were warned about the flames in the nearby Teide National Park.
2022: The year of the most destructive wildfires

open box
Box zuklappen


2022 was Spain's most destructive forest fire year since records began. So far, the flames have destroyed 197,000 hectares of forest, according to the Copernicus Earth Observatory. This is more than the 2012 record.
According to Copernicus, Spain tops Romania (almost 150,000 hectares), Portugal (a good 46,000), France (almost 40,000), Croatia (about 31,000) and Italy (25,000 hectares of forest so far). The worst-affected country in Europe on record. The situation was stable on Friday. According to the authorities, only a few large fires were active in the afternoon, for example in Galicia and Tenerife.
Italy: Firefighters responded to wildfires more often this summer than a year ago. From July 15 to 21, more than 32,900 operations were counted, 4,000 more than the previous year, the fire brigade said. Firefighters often intervened in Sicily and Puglia. Forest fires have been burning for days in the border region of the Friuli-Venezia Giulia region. A large fire also broke out in Massarossa in Tuscany, where hundreds of people were brought to safety.
Fire from Italy reached Slovenia

open box
Box zuklappen


A forest fire in northeastern Italy has spread to Slovenia's karst region and has been raging for a week. On Sunday, 2,000 firefighters, civil defense officials and volunteers battled the blaze. "Inhumane attempts were made, but now the end of the operation is drawing near," Defense Minister Marjan Sarek said. Entire villages were evacuated several times. Neighboring countries and other EU countries helped with firefighting planes and helicopters.
In neighboring Italy, around 350 people were brought to safety near Gorizia (Gorizia), on the border with Slovenia. The reason is that the fire in Slovenia could spread to Italy due to strong winds, the fire department said on Sunday night. Savogna d'Isonzo was affected.
Greece: A massive fire in the Thadiya National Park in the north-east of the country continues to burn out of control. Thadia village has been evacuated and the army and forest officials are working to cut passages through the pine forest to prevent the fire from spreading further. Ground and air extinguishing will also continue.
A large fire is also out of control in the southern part of the holiday island of Lesvos, where a village was evacuated on Saturday. On Sunday afternoon, the residents of Virisa village were called to leave the village. Many houses and cars were burnt.
The smoke was thick enough to see from space. Copernicus, the European Earth Observatory, announced this on Twitter.
Among others, a substation of the state electricity company caught fire near the town of Larissa in Thessaly. The western edge of the capital Athens also had to be destroyed.
France: Violent forest fires spread no further along the Atlantic coast south of Bordeaux. Some of the residents were able to return to their homes, the responsible province announced on Twitter on Saturday. A week ago forest fires in Landras and La Teste-de-Buch destroyed 20,600 hectares of land. Thousands of people left their homes as a precaution.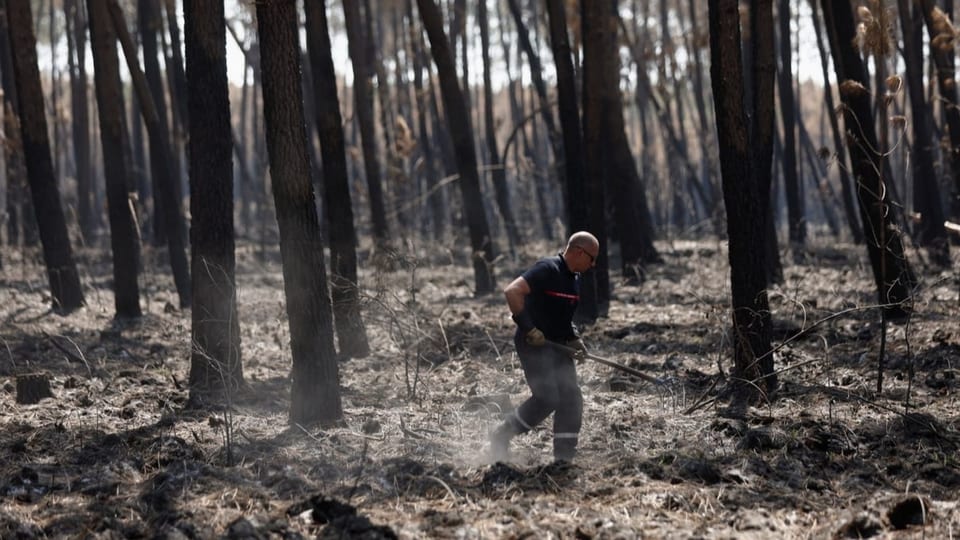 Czech Republic: A forest fire broke out in the Bohemian Switzerland National Park in the Czech Republic. The National Park Authority announced on Sunday that the fire has spread over a seven-hectare area, just outside Prepishter, popular with tourists. Scores of firefighters battled the blaze, and a police helicopter and firefighting plane were also deployed.
England: In the English province of Surrey, the fire brigade extinguished several large fires on Sunday. Heavy smoke billowed from Hankley Common Nature Reserve, where fire crews reported extensive damage, prompting residents to keep doors and windows closed.
A number of wildfires broke out in London, including Hayes and Thamesmead. About 100 firefighters were on the job near Epping Forest in northeast London, according to broadcaster Sky News.
Historic heat wave

open box
Box zuklappen


People have already died in various states. The heat has claimed more than 1,000 lives so far in Portugal alone. By July 18, 1,063 people had died as a result of the heat wave, said Kraka Freitas, head of the health commission.
The situation in Great Britain was dramatic on Tuesday. Coningsby, in the eastern English county of Lincolnshire, measured 40.3 degrees – a British record, the Met Office reported. There were also many fires in England.
"Wannabe pop culture fanatic. Zombie advocate. Entrepreneur. Internet evangelist. Alcohol fanatic. Typical travel buff."