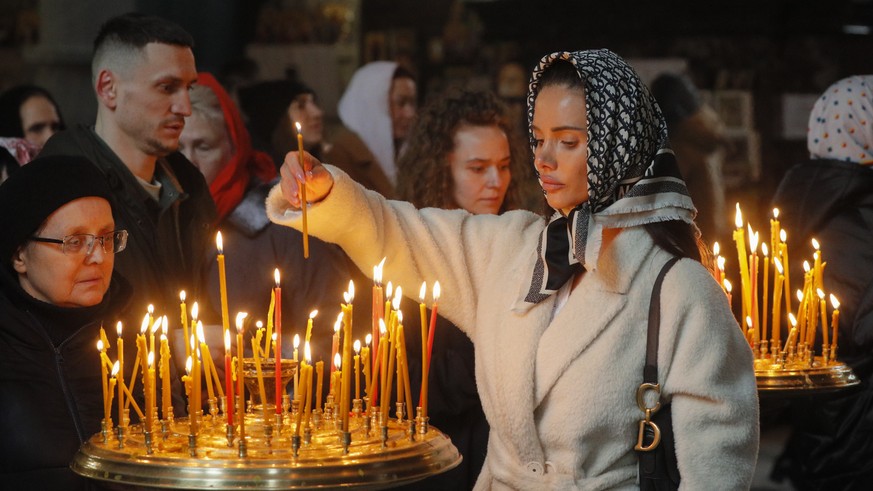 Immersed in Russia's war against Ukraine, millions of Orthodox Christians around the world celebrated Easter on Sunday. In addition to Russia and Ukraine, predominantly Orthodox countries include Greece, Cyprus and Serbia. In German Orthodox churches too, people celebrated holy masses.
Similar to last year, the attacks continued in Ukraine. For example, authorities in the southern part of Mykolaiv reported the death of two young men in Russian shelling. Impacts were also reported in the Zaporizhia region. At the same time, the head of the Ukrainian presidential office, Andriy Yermak, also announced a "big Easter prisoner exchange": according to him, a total of 130 Ukrainian soldiers were released from Russian prisons in several stages over the past few days. .
Orthodox churches follow the Julian calendar for Easter. The Gregorian calendar applies to both Catholics and Protestants. It usually celebrates the most important festival of the Orthodox Church year at a different time from other Christians.
Meanwhile, Ukrainian President Volodymyr Zelensky tried to encourage his compatriots: "The war could not destroy us, our values, our traditions and our holidays," he said in a video released by the Ukrainian presidential office. "Today we celebrate the resurrection of Christ," said the leader of the stricken country, where 70 percent of the population is Orthodox or Greek Catholic. "The main symbol is victory: the victory of good, the victory of truth, the victory of life. We celebrate Easter with the irrevocable hope of these victories."
Russian President Vladimir Putin appeared at the famous Cathedral of Christ the Savior in Moscow. He lit a candle alongside Moscow Mayor Sergei Sobyanin and received a decorated Easter egg from the Patriarch Grill. The head of the Russian Orthodox Church is considered a staunch supporter of Putin's war of aggression against Ukraine.
In Rome, Pope Francis expressed his closeness to all believers. Remembered especially those in Ukraine – but also in Russia. "May the Lord be with them and help them to find peace," said the Catholic Church leader after Regina Colley's midday prayer before the faithful in St. Peter's Square. Without explicitly mentioning the Russian war of aggression in Ukraine, he complained: "Unfortunately, the wars – in stark contrast to the Easter message – will continue. And they sow death in brutal ways." (sda/dpa)
"Wannabe pop culture fanatic. Zombie advocate. Entrepreneur. Internet evangelist. Alcohol fanatic. Typical travel buff."