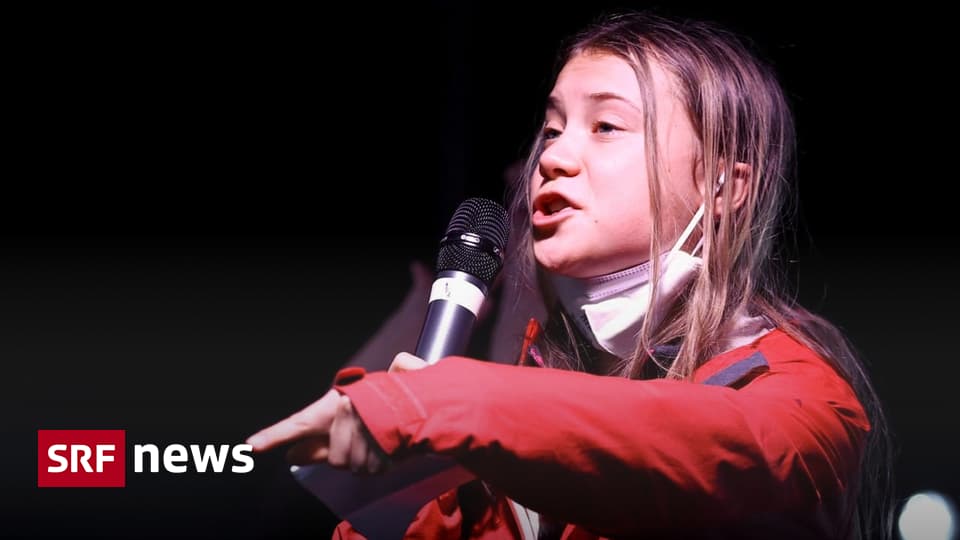 After mass protests on Saturday for greater climate protection, pressure is mounting to reach an agreement in the second week of the World Climate Conference.
Leading climate activist Greta Dunberg on Sunday renewed her demands for drastic and immediate action.
British Prime Minister Boris Johnson – host of the summit in Scotland – called for further pledges from about 200 states participating on Sunday.
"If the immediate, drastic, unprecedented annual emissions cuts do not reach the source, it means we are failing in this climate crisis," the 18-year-old Dunberg wrote on Twitter on Sunday. The popular "small steps in the right direction" equals failure.
At the conference in Glasgow, Scotland, about 200 countries are still struggling to figure out how to achieve the goal of controlling global warming to a maximum of 1.5 degrees Celsius compared to pre-industrial times. The scheduled end is November 12th.
Compensation on the agenda for the second week
In the second and final week of the grand meeting with nearly 30,000 delegates, this Monday's agenda has a subtle topic of money. States already affected by drought, floods and rising sea levels are urging industrialized nations to provide compensation. According to Greenpeace, billions of dollars are needed in developing countries.
Lots of promises in the first week – but what is their value?

Open the box
Close the box


In the first few days, dozens of states announced their commitments and commitments to greater climate protection – and to inspire the conference. According to the wishes of a good 130 states, deforestation must stop by 2030. More than 100 countries have agreed to significantly reduce climate-harmful methane emissions. In the middle of the week, an alliance was formed that wanted to get out of coal between 2030 and 2040. Then a good 45 countries agreed to adapt their agriculture to the climate.
However, there was criticism from environmentalists and climate activists: the "lightning speed" announcements were too long, were completely voluntary and had no details. For example, a similar goal was set in New York in 2014 for forest conservation – but deforestation has since accelerated.
On Friday and Saturday, tens of thousands of people in several countries expressed their dissatisfaction with the decades-long delay in climate protection and called for more climate justice. Organizers said there were more than 100,000 participants in Glasgow alone. Greta Dunberg slammed the inaction of the major economies and the "blah blah blah". Their conclusion: The COP26 conference is already a failure.
The opposite summit began
A kind of counter-summit began in Glasgow on Sunday. The "People's Summit" also aims to increase pressure on negotiators. The main demands are extreme climate protection, comprehensive debt relief for all developing countries and compensation from industrialized countries. The COP26 Alliance – Alliance of Organizations and Campaigns – wrote: "We need a climate protection that works for everyone, not just people who have more money in their pockets."
At a meeting of heads of state and heads of state in Glasgow, a large number of "bad guys" from climate policy were missing, especially China. The vast empire is emitting more greenhouse gases so far, but does not want to reduce its emissions until 2030. According to the Intergovernmental Panel on Climate Change, emissions should have been reduced by 45 percent over the decade to reach the 1.5-degree target agreed in Paris in 2015.
The right-wing president of Brazil, Jair Bolzano, had to give the most valuable rainforests to agricultural lands in his country, but he did not come. And no more: the leaders of Russia and Saudi Arabia, whose economic model is based on gas and oil exports.
Back to the United States
On the other hand, the United States is once again on the world stage of climate policy. President Joe Biden has apologized in Glasgow for his predecessor Donald Trump for pulling out of the Paris climate deal. After all, Biden came up with the well-known methane deal with him – in the eyes of many observers, the United States did not contribute enough to the massive emissions of responsible greenhouse gases.
"Wannabe pop culture fanatic. Zombie advocate. Entrepreneur. Internet evangelist. Alcohol fanatic. Typical travel buff."