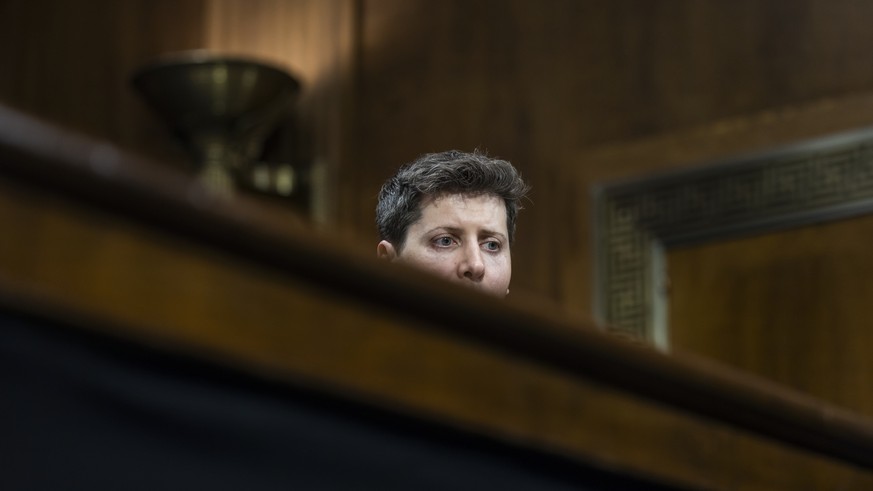 Comment
While protecting our democracy ChatGPT and co. Strict regulation and independent oversight are critical to harnessing the potential of
18.05.2023, 16:3218.05.2023, 18:19
Almost two decades ago, Mark Zuckerberg launched Facebook with the goal of connecting people around the world.
But his real purpose and business strategy is different. The internal motto that "Chuck" gave to his team was "Move Fast and Break Stuff" or translated: Move Fast and Break Stuff. As economic development took precedence, they consciously accepted the social collateral damage.
Today, the sites of the metacorporation are breeding grounds for hate, misinformation and manipulation. To avoid similar problems with AI, we need to learn from the failures of politics at the time.
Mark Zuckerberg on his way to trial.Build: Keystone
Facebook and Co. The unbridled rise of should serve as a cautionary tale: Never underestimate the profit motive of companies and don't let the main profiteers flatter you.
If the history of Silicon Valley has taught us anything, it's that innovation must come with constraints. A few years ago, OpenAI was founded as a responsible non-profit organization with its "core duty of loyalty to humanity" – not far from Zuckerberg's vision.
Now, OpenAI is a $30 billion company leading a high-stakes AI arms race with ChatGPT. And next to the company's CEO, Sam Altman, Zuckerberg will soon look like a schoolboy.
Sam Altman, CEO of OpenAI, had to fly into Washington DC this week to testify before a Judiciary subcommittee on ChatGPT threats.Build: Keystone
The 38-year-old head of OpenAI publicly says he supports stricter regulation of the AI ​​he develops. But it could also be a PR facade.
Something similar has already been observed at Facebook and other tech companies. Its top representatives vehemently demanded tougher rules — and secretly funded multimillion-dollar lobbying campaigns to block them.
Don't get me wrong, artificial intelligence has the potential to do many good things, but we've also seen how AI chatbots spread fake news and endanger the health of children and adults. Many companies are now testing AI search capabilities, making it harder to find reliable sources online.
Of particular concern is the feared impact of AI on our Western democratic systems. There are no clear rules for using AI in political processes, which encourages manipulation and misinformation.
In America or on the Old Continent: Many politicians in government or legislative positions have so far reacted with reluctance (or not at all). We now need independent, digital-savvy consumer protection authorities to regulate new AI products and guarantee safety and data protection.
Enforcing a digital labeling requirement is another important step: platform operators should be forced to allow only watermarked AI-generated content.
In addition, it is important to include as many different voices as possible in the public debate about AI regulation. In particular, young people who are most affected by such technologies should also have a say.
My personal conclusion after months of tinkering with generative AI: We shouldn't follow Zuckerberg's mantra of destruction. The long-term well-being and stability of the community is paramount. Politicians must act now to prevent irreversible damage. There is no place for anyone to refuse.
proof's
Ex-Facebook Employee Reveals Secrets
Video: Watson
You may also be interested in:
"Wannabe pop culture fanatic. Zombie advocate. Entrepreneur. Internet evangelist. Alcohol fanatic. Typical travel buff."